An effective skincare routine is key to maintaining healthy and youthful-looking skin. At its heart lies a gentle cleanser, exfoliator and moisturizer regimen.
If you have oily skin, opt for a foaming cleanser containing ingredients to reduce excess sebum such as Salicylic Acid. Dry skin would benefit from using a serum with ingredients such as glycerin or botanical oils as they hydrate effectively and help avoid clogged pores.
Cleanse
Cleansing is a critical first step of a skincare routine. Cleansing removes makeup, dirt, oil, pollutants and environmental stressors that accumulate throughout the day while reinforcing the outer layer of the skin barrier to be more resilient against harmful bacteria, pollution and microbes that could cause harm.
When cleansing your face, we advise using a gentle cleanser such as cleansing balm or micellar water to safely and gently remove makeup and surface impurities. Depending on your skin type, an exfoliating face wash or chemical exfoliator may also help speed up cell turnover for healthy glowing skin.
Those with oily skin should avoid harsh formulas containing alcohol or foaming ingredients and opt for gentle exfoliating cleansers with exfoliating beads to gently exfoliate and eliminate dirt from pores. If they also suffer from sensitive skin, seek out soothing cleansing gels such as aloe vera, green tea polyphenols or oatmeal to calm any inflammation.
Every evening it is essential to cleanse the skin thoroughly in order to get rid of build-up from work, the subway ride home or an intense workout session. Furthermore, certain physiological changes take place overnight which require rejuvenation in order for them to work effectively.
Tone
Toning may not be top of mind when it comes to skincare regimens, but it should still play a significant role. Toning removes any remaining oil, dirt, makeup or sunscreen your cleanser missed while also helping balance pH levels that have become unbalanced due to harsh cleansers or sun exposure.
Toners are typically water-based products formulated with soothing ingredients like eucalyptus or aloe, and should be applied using your fingertips, cotton ball, or pad after cleansing and before applying other leave-on products such as serums and moisturizers. Remember the order in which these products should be applied – layering thicker formulas over lighter ones could render them ineffective according to dermatologist Nicole Idriss.
If you suffer from oily or acne-prone skin, look for a toner with exfoliating ingredients such as lactic acid or salicylic acid to reduce breakouts while simultaneously clearing pores and minimizing redness. Dry and sensitive skin types would benefit from toners containing hydrating agents like glycerin or hyaluronic acid to provide ample hydration.
Toners can help revive and refresh your skin quickly in the morning or evening, simply soak a cotton pad with it before applying it gently all over your face, neck, and decolletage.
Moisturize
No matter if you prefer a quick three-step routine or take on more intensive 10-step regimens in pursuit of flawless skin, the order in which you apply your products has an impactful influence on how effectively they work. While there may not be an optimal ordering, most dermatologists agree on these basics as a great place to begin:
As soon as your skin type has been determined, begin washing it with an appropriate cleanser that's tailored for it. For example, those with oily skin should look for a gel or foaming cleanser containing ingredients like niacinamide and salicylic acid to regulate oil without stripping away their complexion; those with dry skin may prefer creamy non-foaming cleansers that contain barrier-boosting ingredients like ceramides, hyaluronic acid and glycerin in order to keep their complexion hydrated and keep their complexion looking its best.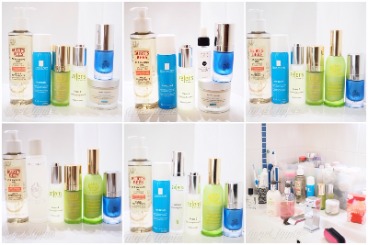 After cleansing your face, using a toner or essence can help smooth out your complexion for even makeup application. For sensitive skin types, formulas containing niacinamide and aloe vera will soothe inflammation while providing moisture. Finally, moisturize using an appropriate lightweight cream or lotion based on your skin type: for fine lines or wrinkles use one rich with retinol or antioxidants while for all other skin types be sure to include an SPF 30 sunscreen into your daily regimen to protect from sun damage and future signs of aging.
Sunscreen
Sunscreen is the cornerstone of skincare for all skin types. Regular usage reduces your risk of skin cancer as well as other serious health conditions, including uneven skin tone, fine lines and wrinkles, loss of firmness, abnormal collagen formation that leads to leathery skin as you age, as well as helps prevent formation of abnormal collagen and elastin formation – the latter contributing significantly to leathery skin as you grow older.
Consider purchasing a broad-spectrum sunscreen with an SPF rating of 30 or higher to protect yourself against both UVA and UVB rays. A physical sunscreen containing zinc oxide and titanium dioxide works best, as these ingredients help reflect back the sun's harmful rays. When looking for liquid or mist products that meet this standard, fragrance- and paraben-free versions may be preferable; powdered sunscreens also blend seamlessly into makeup without dampening it!
Ideally, wait until your serum with SPF has fully been absorbed before applying sunscreen to your face. Incorporating both ingredients may result in an unattractive combination; avoid mixing your moisturizer and sunscreen as some formulas can be greasy.
An effective skincare routine is important no matter your age, though specific steps and products may vary based on your skin needs and concerns. To get optimal results from this approach, create a routine tailored specifically to you, your lifestyle and budget that meets all those criteria – then stick with it every day; your skin will thank you!
Tags:
basic
,
routine
,
skincare